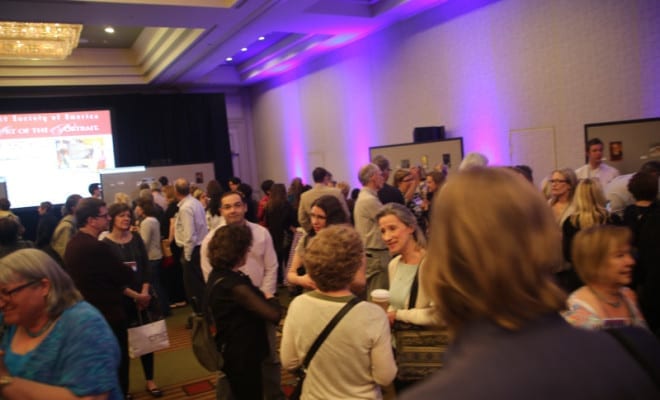 6 x 9 Limited Size, Unlimited Talent Auction & A Night Out to Prinipal Gallery, Alexandria, Virginia
|
The last event of the 2nd day was a crazy and chaotic 6×9 Limited Size, Unlimited Talent Auction. This is one of the most entertaining events at the conference.  Each wall of a huge room is lined with  large boards with about fifteen 6×9 paintings.  Every painting has an assigned number on the front and the artist's signature is hidden on the back.  The conference attendees are given just enough time to see all the paintings once.  Then they must decide quickly whether to buy, and if so, which painting to buy.  All the paintings are up for sale for $250.00. If more than one person wants to buy a painting, the monitor puts the name tags of the competing bidders in a basket and draws the winning tag. Not until the painting is purchased does the person know who painted it.  It could be Ann Kraft Walker, Rob Liberache, Aaron Westerberg, Ricky Mujica or a number of other well known and talented artists.
After the 6×9 Limited Size, Unlimited Talent Auction, a bunch of friends (some listed below) went to the Principle Gallery in Alexandria, Virginia to celebrate its anniversary and see works of Ryan Brown, Casey Childs, Robert Liberace, Teresa Oaxaca, Felicia Forte, Rachel Constantine and others.  I found a charging station for my car that was less than a mile away and charged it while we went to the opening and to dinner.
When I returned to the parking garage that was charging my car, I was horrified to find it closed, with Tessie (my car) locked inside.  My panic attack was cut short, however, on suddenly seeing an attendant walking toward me.  He told me that he had been sleeping in his car waiting for me to return.  Whew!!  Am I lucky for Southern hospitality!?!  It was a great night with fantastic people all around.
Get great posts like these in your inbox!
Enter your email and we'll send you new posts when they are published. It's that simple!
We promise to never sell or distribute your email addresses. Your privacy is safe with us.