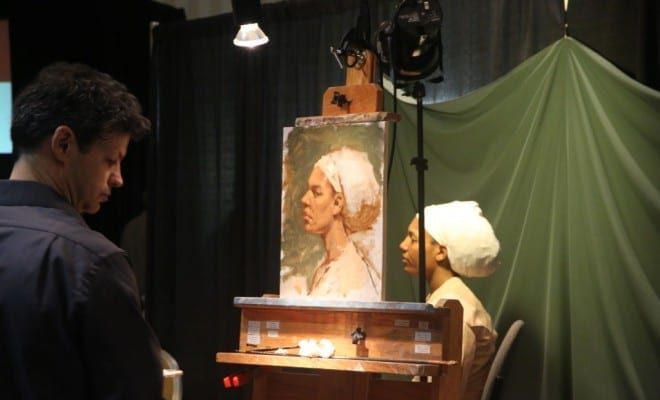 The Portrait Society of America Philadelphia, Pennsylvania Day 1
|
Have I mentioned that I love going to the Portrait Society of America Convention every year? Well, I do. This year it was back in Philadelphia, PA at the Sheraton Philadelphia Downtown.
The first day of the conference was not a disappointment either.  In fact I think it was the best yet.  The Face Off was the first event.  This was a contest where 15 faculty members of the Portrait Society come together and all paint at the same time.   Each faculty member is assigned to one of the five different models.  It was so exciting to see all of the artist get to work.  Everyone was so different in their approaches.  I think I would have a nervous breakdown trying to paint in front of my peers.  It was great fun to watch though.  The energy in the room was electric with excitement.  Everyone did a fantastic job and it was great to see these wonderful artist paint under such pressure.
This is the first year I have gone to the Portrait Society Conference without my husband.  Not so bad.  I went out to dinner with some old and some new friends.  So much fun!
Get great posts like these in your inbox!
Enter your email and we'll send you new posts when they are published. It's that simple!
We promise to never sell or distribute your email addresses. Your privacy is safe with us.