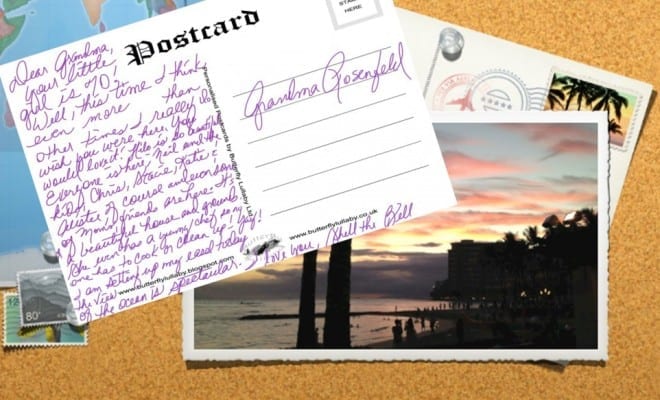 Postcard to Grandma – South Kona, Hawaii
|
Dear Grandma,
Your little girl is 70!  It's Mom's 70th birthday.  Well, this time I think even more than other times I really do wish you were here.  You would love it.  Hilo is so beautiful.    Everyone is here; Neil and the kids.  Stacie, Katie and Alister of course and even some of Mom's friends are here.  It's a beautiful house and grounds and she even has a yummy chef so no one has to cook or clean up!!  Yay!!  Setting up my easel today the view of the ocean is spectacular here.
I love you,
Shell the Bell
I would also like to say I am sorry to Leslie Adams and Linda Reynolds for getting their names wrong in my post on the Portrait Society.  They were never at my house.  I'm terrible with names.
Get great posts like these in your inbox!
Enter your email and we'll send you new posts when they are published. It's that simple!
We promise to never sell or distribute your email addresses. Your privacy is safe with us.