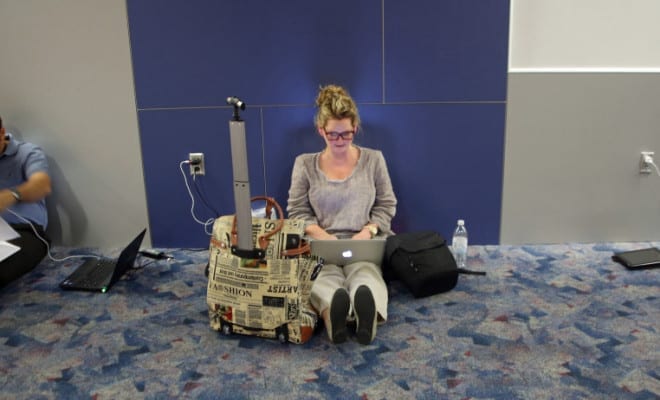 Why I am fast forwarding my posts
|

Hey everyone,
I finally finished the Ryan Brown posts. It only took me more than 6 months.. Haha! I'm sorry I've been on radio silent for so long, but I'm back now!  In the interests of staying up-to-date, I plan to write about workshops I'm currently attending, and in between workshops, I'll be posting about ones I've already been to.  It's overwhelming to get so behind, but don't worry, I'll get to them all, eventually!
Coleen Berry
Right now I'm doing a class (not a workshop) in New York City with Coleen Berry at the Grand Central Academy. She is fabulosoooo, by the way.
In the meantime, here are some teasers of workshops I've been to and will be writing about:
Casey Baugh
Casey's workshop took place  in Chattanooga, TN. A very artsy-fartsy city.  Who knew?  Casey uses the computer to plan and lay out his paintings. It was amazing to see him paint on the computer–it was like he was playing a musical instrument.  He was totally lost in the process, and it felt like he was unaware the class was even there. His technique was brilliant and fascinating

Sadie Valeri

Sadie is a great teacher and feels very strongly about knowing your basics before you start anything.  Before we drew anyone, we had to do some exercises such as drawing a simple sphere.  I learned terms like "terminator" etc.  The instructions were very good and clear and very similar to her DVD.  I loved San Francisco!  I has not been too happy with it the last few times I was there.  It had just gotten too touristy, but I had never ventured over to the art district where Sadie's school is.  It's very cool and her studio is one of the nicest studios I have ever been in.  Very cool.  I learned a lot of good technical information, which I will share in my future posts about Sadie.

Ryan Brown (2nd trip)
I love Ryan! He is a super nice man, has really practical technical advice, and is really fun to be with.  The highlight of the trip was the last day of the workshop when Ryan and two other students and I trekked to the top of this beautiful mountain to do some plein air painting.  It felt like we could see all of Utah up there.  As we were coming back down the mountain in Ryan's iridescent purple minivan, I made fun of some sign or something (I can't even remember) and we all started laughing.  I laughed so hard I cried. This is what it's like learning from him. One minute he is wiping off your entire canvas and teaching you art theory, and the next he's singing at the top of his lungs to the radio in the car.
David Kassan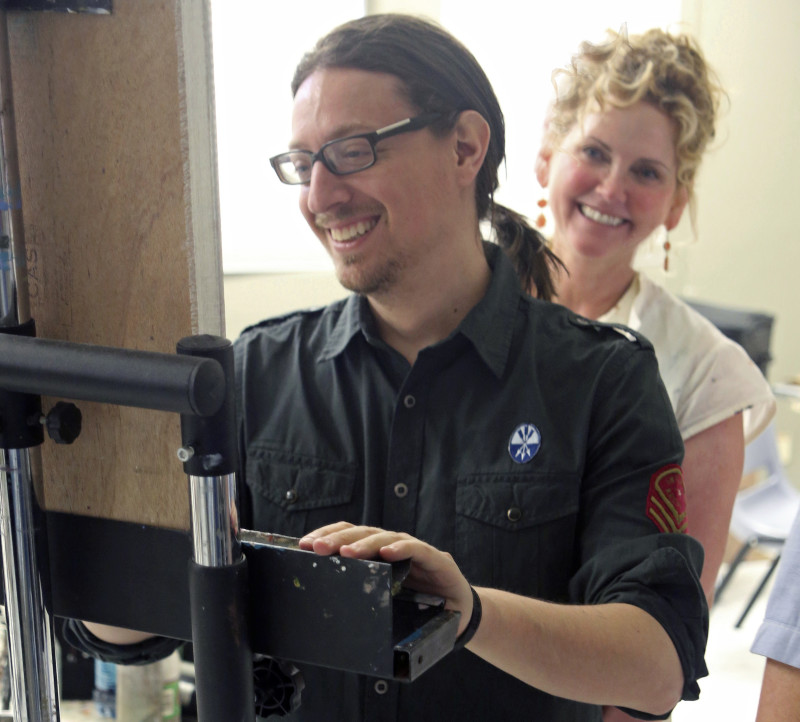 At the Scottsdale Artist School in Scottsdale, AZ.  David is very talented and gave me useful technical advice.  He also happened to say something that helped me understand why some other teachers have acted sort of weird around me in the past, sometimes helping me less than the other students.  The first time David came over to help me, he said, "Wow, I feel so intimidated by you because you have been to all these fabulous workshops with all these wonderful artists and I'm afraid I will give you bad advice compared to everyone else." Wow, what incredible honesty! What I understood from his statement was that he's not actually intimidated by me; he's intimidated by the great artists who have taught me.  As if I would have known the difference if he had given me bad advice! Hahaha! Anyway, I like the way he works. It's sort of all over the place, then at some point it magically comes together. And he's a fun guy. He likes going out for beers with some of the students after each class.. Totally fun class and I learned a lot.
Dan Thompson
Dan Thompson
I saw Dan right here where I live in Philadelphia, Pennsylvania at Studio Incamminati.  Dan was very nice and lectured us like we were 3rd year medical students. The entire class was based on the muscles and bones of the skull.  Unbelievably fascinating and exhausting at the same time! But it really helps you appreciate and understand the hills and valleys of the face.  After this class I'm ready to go to medical school–just in case this artist thing doesn't pan out.
Alyssa Monks
In Brooklyn, NY.  Her work is really cool and interesting, but it was way out of my comfort zone back when I attended.  I learned a lot about planning and being mindful of your work.  The class was also all female and very young, which, in my experience, is rare. Everyone thinks she works directly from photographs only–and she does in the beginning–but then the painting takes on a mind and life of its own. Then photos are just reference materials. Of all the artist I have known, she and a couple more use photographs the least.
Scott Waddell
Scott will be next because his was the last workshop I attended. It was a hoot being with Annie Kraft Walker and her friend Robin Williamson. (We rented a fabulous condo on Lake Travis.) Scott gives a LOT of information… also, did I mention he gives a LOT of information! He teaches a window shading technique. I had seen this technique before, but I didn't know the name of it. I noticed that some students listened to his lectures but wouldn't try to do what he was teaching. I guess some people don't want to take a chance and learn something new in fear of not producing their best work every time.  Scott was very patent and encouraging to everyone. Here are some other traveling, artist-y things I've done:
The Art of the Portrait Convention

In Atlanta, GA.  So much fun!  It was great reconnecting with people from past workshops, like my good friend Julia Gravois, who was my roommate in Sweden. We were roomies again in Atlanta.  Another now great friend Annie Kraft Walker was there too.  And of course all of my past teachers: Aaron Westerberg, Alex Tyng, Ryan Brown and countless others. The lectures and demos at The Art of the Portrait are excellent, and are open to everyone. There is even an art sale called "6 x 9 Mystery Art Sale" that featured 6×9″ panels painted by previous award recipients, faculty, and other nationally known artists. Attendees can purchase a painting after the timed unveiling of all the available pieces. It's fun and crazy at the same time. People are running at the end trying to get their favorite pieces before someone else does. Everything was $250.00, and part of the thrill is that you don't know who the artist is until after you purchase the painting. There are also lots of mini workshops that only last about an hour.  You need to sign up for these as early as possible because they fill up fast.  They usually have some big names in the art world to teach the workshops.  I did a great workshop with someone named Quang Ho and I would really like to study with him in a full workshop someday soon. And of course there is always the very fascinating "paint-off." 15 artist are timed painting a portrait of 5 different models. Lots of fun.
Oil Painters of America Convention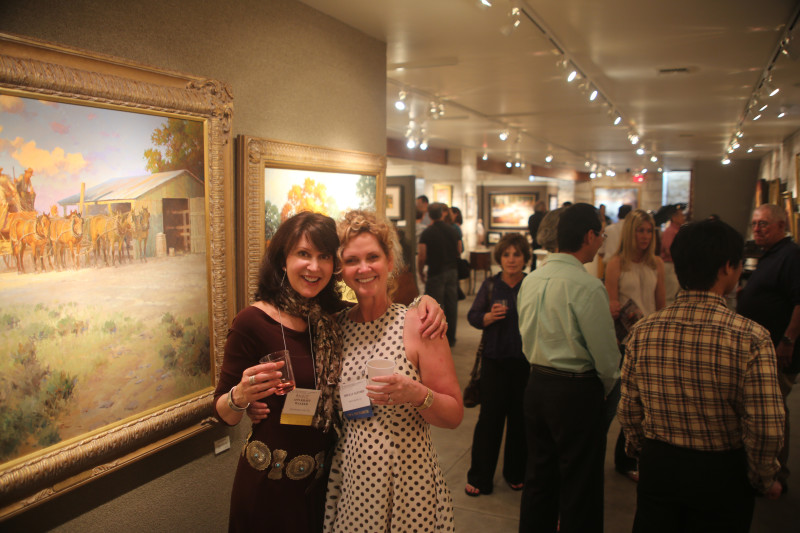 In Fredricksburg, TX.  Lots of fun, but totally different from the PSoA convention.  One big difference is there is a lot of cowboy art, something that you almost never see, at any of the PSoA conventions.  There are no mini workshops, but there are grand lectures. I saw some great art and heard a few fascinating lectures.  One day, I hiked up a lookout rock alone with all my gear in 103˚ weather. I've had some better ideas in my life.
Paris, France
My daughter Grace and I spent three weeks in my son's tiny apartment at Place des Vosges in the 4th arrondissement.  Tourists kept taking pictures of me plein air painting in the park.  I guess I looked very Parisian?  Haha! If only they knew….  I applied to be a copiest at the Louvre. And to my surprise I was approved. There were appointments, interviews, portfolio submissions and general hoops to jump through. I did them all except the last one, which is to get verified by my own consulate. I also found out how to do the same at the Musée d'Orsay, although I never actually applied there.  Muddling through bureaucracy in France is basically an art form.
 Martha's Vineyard
My son Winston and I stayed with my friend Mark, who is a very active art collector. He showed us all around. Can I just say there's a great art scene on this island?
Jeremy Lipking and Casey Baugh Shows
Two great show openings back to back at Acadea Contemporary Gallery in NYC.  Jeremy Lipking had some fabulous pieces half of which were already sold by the time I got there.  Jeremy and his wife Daniel just had their 3rd baby, who along with there other 2 kids were also in attendance.  His show very much reflected his love of his family. Casey Baugh's show was a very different crowd.  A lot of "guys" in their 20's all dressed in black emulating their idol, Casey.  I saw a couple of preview photos of Casey's new work for the show and I said, Whaaaaa?  This doesn't look like Casey at all.  They also looked a little like bad sci-fi.  When I got there, however, my jaw dropped.  They were cutting edge and fabulososososo!!  Casey, get a better photographer, please!!!  Red stickers going up everywhere!
Ricky Mujica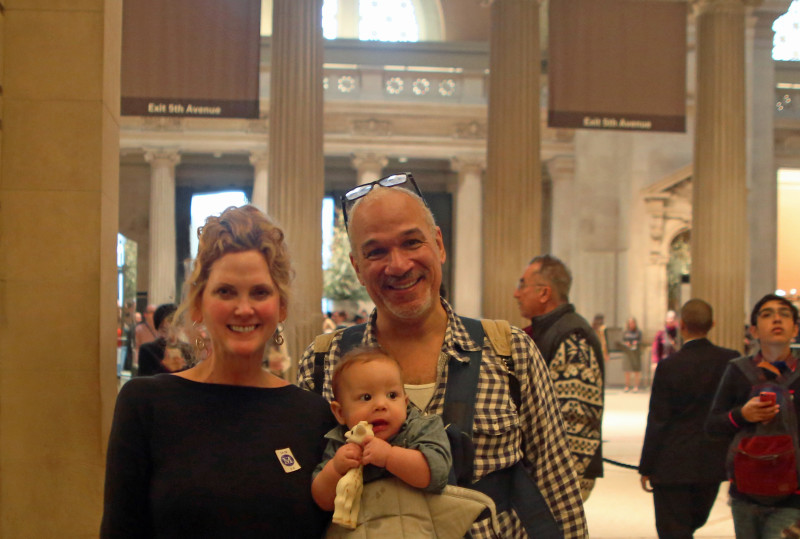 Me, Ricky Mujica and his son Julian at the MET
Last week I finally got to meet Ricky Mujica in person! Yay! We saw the Vermeer exhibit with his son Julian at the Frick in NYC, and I'll tell you about that show. He writes me the most unbelievably profound emails about art and gives me great philosophical and technical advice about being an artist.  I'll be sharing some highlights of his emails with you between workshop posts.
Get great posts like these in your inbox!
Enter your email and we'll send you new posts when they are published. It's that simple!
We promise to never sell or distribute your email addresses. Your privacy is safe with us.